Maine Bass Fishing on East Grand Lake
In 1996, North American Fisherman magazine stated that crystal- clear, twenty-two mile long East Grand Lake "could be the best smallmouth bass fishing lake in the United States." Based on over 72 years' experience, we at Rideout's Fishing Lodge heartily agree. Our smallmouth bass fishing is frequently quite good by late May early June. However, we enjoy exceptional smallmouth fishing from the second week of June through the second week of July (a five-to-six-week time period that includes two spawns.) During that time, under ideal conditions, it is possible for two experienced bass fishermen to catch up to 100 bass per day. Our late-summer and autumn fishing on East Grand Lake is often excellent, though the fish head into deeper water. During this later season, there is often good Maine smallmouth action on smaller, shallower lakes nearby. Most of these lakes are uninhabited, and fun to explore. Whether on East Grand Lake or neighboring lakes, though, fishing for trophy-sized smallmouth bass is done at all times of year!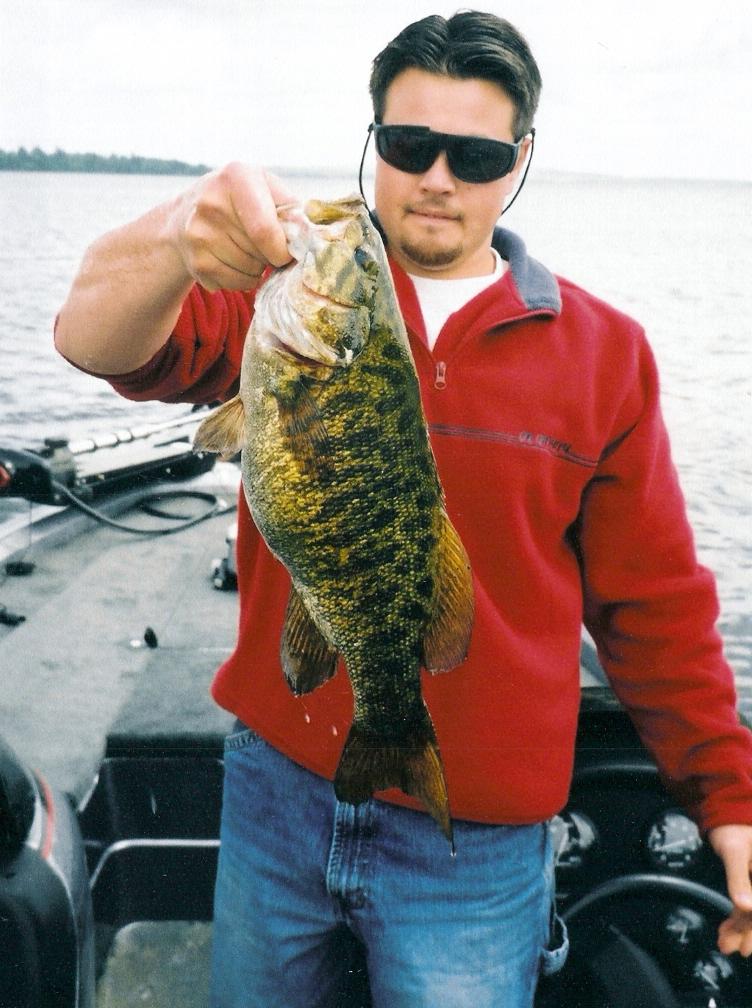 Smallmouth Bass Fishing Tackle
Anglers on Maine's East Grand Lake use a wide variety of bass fishing lures. However, the following general guidelines apply. During the pre-spawning feeding frenzies, effective bass lures include surface lures, spinnerbaits, and soft- or hard-style jerkbaits. During the spawn, Maine smallmouths are successfully caught on top-water lures, four-inch grubs, tube baits, salamanders, and lizards. Later in summer and into the fall, spinnerbaits, Senkos, and crankbaits are commonly used. In addition, we try surface lures near structures early and late in the day and Carolina-rigged lizards for deep-water fishing.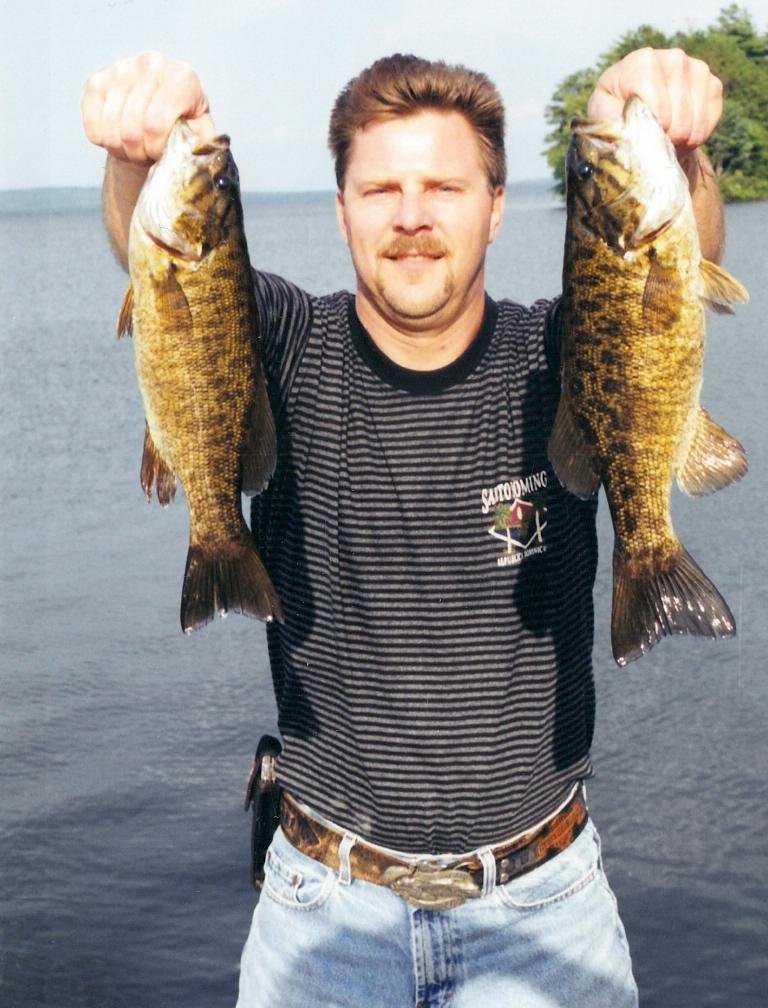 Rental Equipment
To ease the burden of packing for your bass fishing trip we also rent electric trolling motors (with deep cell batteries), and fish finders. In addition, we have several electrical outlets strategically placed on our main dock for charging boat batteries.
Fly Fishing for Smallmouth Bass
East Grand Lake is a wonderful place to fly fish for bass. The water is gin clear and cool, there is great structure, and bass are literally everywhere. As a Rideout's guest, you can use our large docks to limber up your casting arm, instruct a novice, test your tackle -even land a few smaller bass in the evening.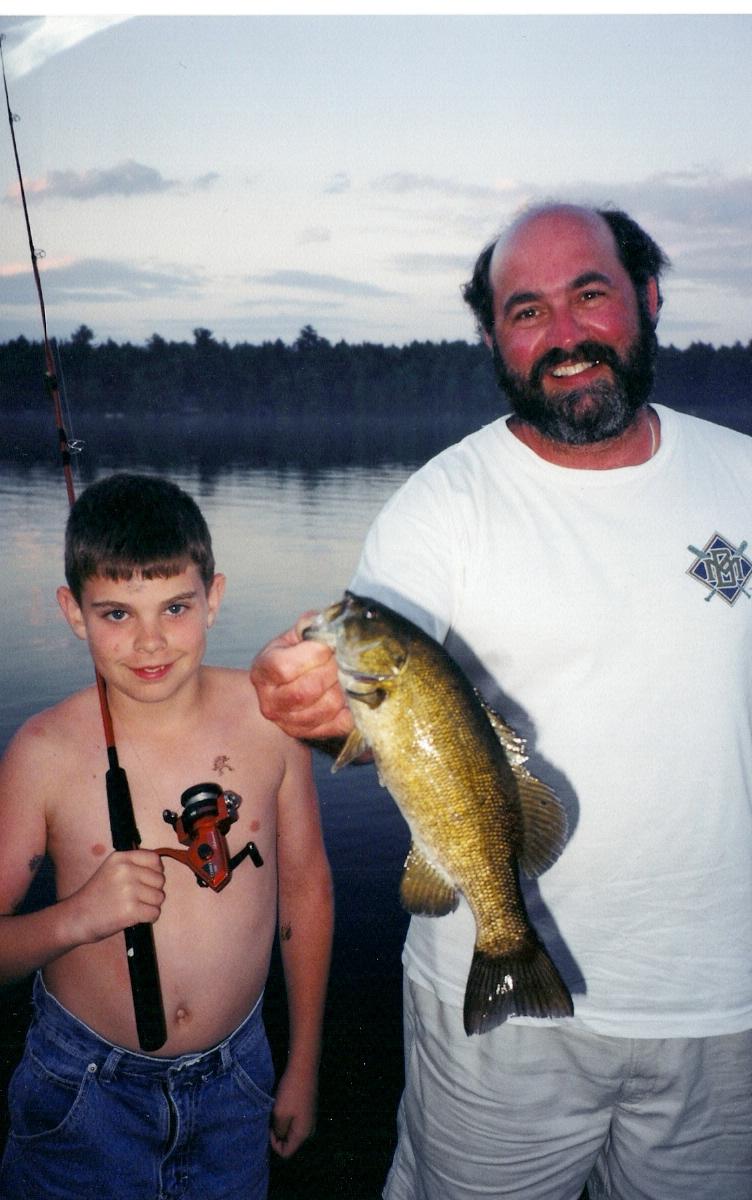 Nearby Bass Fishing Waters
Although East Grand Lake boasts some of the best bass fishing in Maine, some like to venture onto nearby smaller ponds and rivers. These small, shallow, warm-water bodies are wild and beautiful. Baskahegan Lake, Hot Brook Lake (Upper and Lower), Brackett Lake, Deering Lake, and the Crooked Brook Flowage offer excellent summer bass fishing. Brackett and Deering are within three miles of our rental cabins.

Smallmouth Testimonials From Rideout's Guests, Pros and Guides
"During the spawn, the average daily bass catch will be 50-plus fish in the three-pound range."

"If you've been looking for great Maine smallmouth bass fishing, then look no further...East Grand Lake is 22 miles of 'God's country.' Not only is the scenery breathtaking, the lake is a fisherman's paradise."

"While at Rideout's in June, Maine's premier bass angler and guide, Dave Barnes, was filming his television show....The video staff from Ursus Productions reported that Dave was boating and releasing 75 big bass each day."

"Dock fishing is a neat way to introduce a youngster to fishing... the action can be quite fast all year 'round, and catches of six to eight smallmouths at a time are common."