Landlocked Salmon Fishing
If you are looking for unsurpassed Maine salmon fishing, you'll find it at Rideout's Lodge on East Grand Lake -- one of the oldest salmon fishing lodges in Maine. Our landlocked salmon fishing season starts strong each year in early May, and continues full strength through June. In this early season, salmon anglers typically use either spincasting or fly-rod tackle to troll live smelts (or shiners), streamer flies, or mooselook wobblers.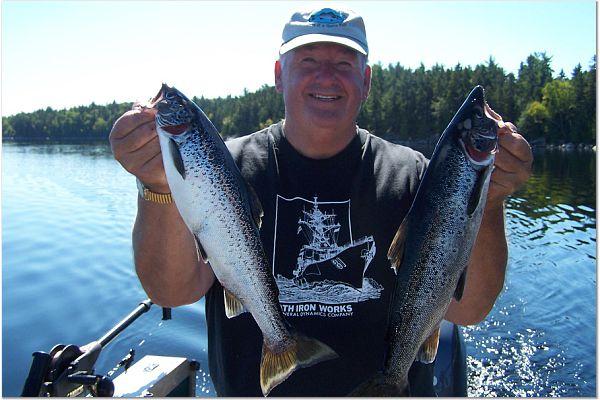 Summer Salmon Fishing in Maine
Landlocked salmon swim deeper during the warmer months of July and August, and it takes a bit more effort to catch them. Drift fishing, using leadcore line or downriggers, is the preferred salmon fishing technique. During the warmer months when live smelts are no longer available, streamer flies, mooselook wobblers and shiner (minnows) are preferred. Excellent top-water salmon fishing resumes again in full strength when the water cools off in mid September.