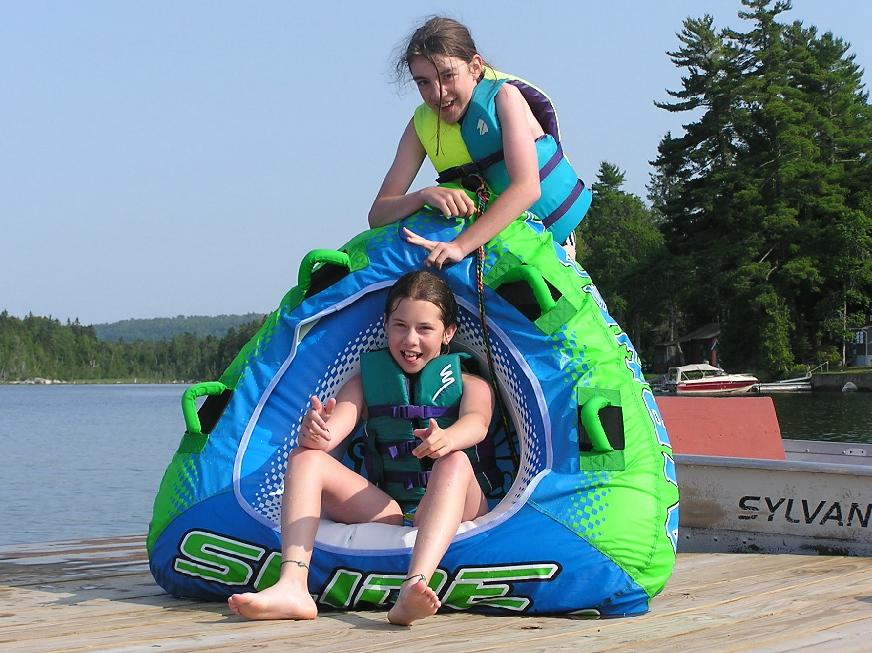 Maine Family Vacations
Every year our crystal clear water, wildlife, cool temperatures and gentle lake breezes lure family vacationers to our cabins for family fun, relaxation, and fishing. We specialize in Maine family vacations and cabin rentals, as well as delightful family reunions…. wake up to the call of a Loon!
If you are searching for family vacations, there's no better place to enjoy Maine's spectacular beauty than at our Maine cabin rentals. Rideout's is truly the sporting Lodge for family fun. We have plenty of open area on our grounds for the family to play, and by late June the lake has warmed up so that our more popular water sports such as kayaking, canoeing, paddle boating, water-skiing and swimming are extremely popular.
Family Adventures
Our fourteen kayaks are safe, stable, and vary in size so that the whole family can paddle along the lake in comfort. Our "Old Town" canoes are large, stable, and ideal for family outings or picnics on the lake or on our local rivers. Our paddleboat is used quite often for casual cruises across our cove. It has become quite a hit with the teens. Many of our guests on family vacations love to water-ski our 16,000 acres of water every year…one group brings a boat up that routinely pulls 6 skiers at once. We also have some small sand beaches along our shoreline that are perfect locations for family swimming and sunbathing, and yes, our water in the Maine summer is very comfortable for swimming…it's actually warm.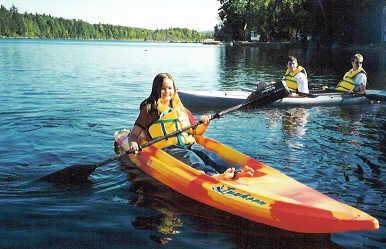 Maine Lakes

Because we are on one of Maine's largest lakes, power boating across it's vast stretches is also a great pleasure. Whether you're navigating a 5 foot dinghy or a 22 foot covered cabin cruiser, you'll fall in love with the shimmering water and the splendid scenery on your vacation. Even though we're on a large lake, we're relatively free of boat traffic so you will not be overwhelmed with other boats at anytime. In fact, depending on when you stay you may not see another boat all day. Because of the lack of crowding, we are also an excellent location for sailing. Whether you're windsurfing or navigating a sizeable sailboat, you'll love crisscrossing our scenic lake. Finally, if you are inclined to bring a boat, whether it be a powerboat or sailboat, you should feel entirely confident to do so…we have ample, spacious, protected docking for even the largest personal watercraft. And if you don't happen to own a boat…no problem…we have an excellent selection of safe, high quality, 16 foot long, aluminum boat rentals with highly reliable motors available for guests use on their Maine vacations.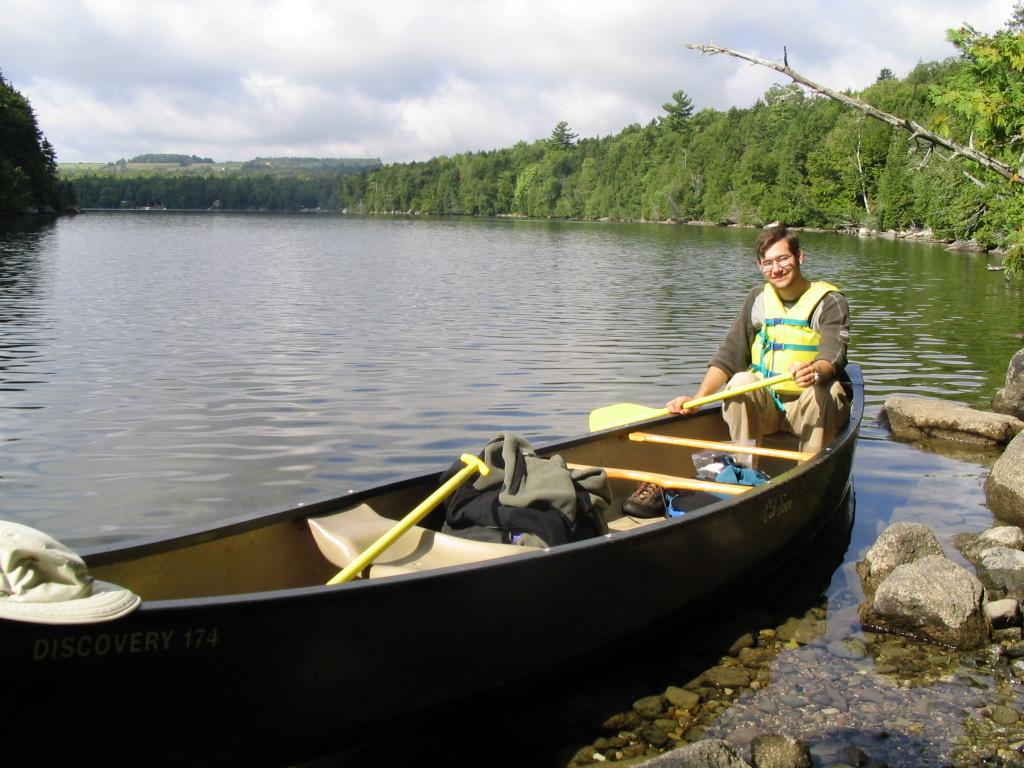 Don't forget that we specialize in family vacation fun AND serious fishing! Trophy fish are taken every year on East Grand lake, many of them in the summer vacation months. Even if you aren't a serious fisherman, be sure to try our great dock fishing. Fishing from our docks is fun and relaxing and a great way to introduce a youngster to the sport…and because bait is often used in the summer the kids have an good chance to get a fish. We have a 200 foot long dock at the Lodge (reportedly one of the largest docks in Maine) that is perfect to fish from. These docks extend quite far out into the water, deep enough to attract even the larger fish. The bass and perch are plentiful, and 3, 4, and even 5 pound bass are caught every year. For those more adventuresome, try fishing out on the vast stretches of the lake in a powerboat. Bass and brook trout are plentiful, pickerel close by, and you can keep several white perch each day…these are excellent for family fish fries. Note that we highly encourage "catch and release" for bass to protect our fishery for the generations to come.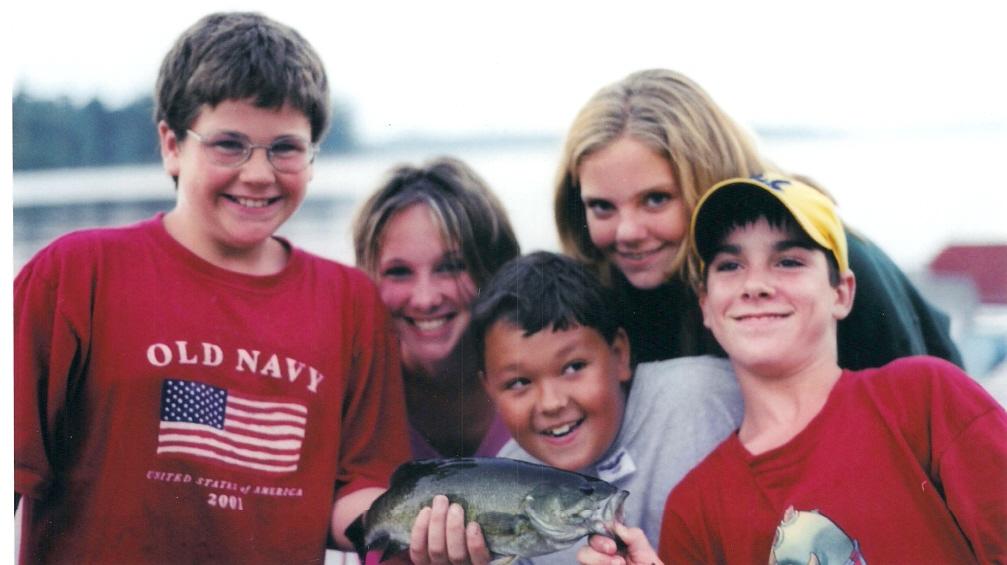 Wildlife are numerous in our area and during your daily activities you may happen upon moose, deer, beaver, muskrat, Canada geese, bald eagles, loons, and an incredible variety of waterfowl.

Our cabins are an ideal location for old-fashioned "wholesome" family fun. It's a chance to spend "quality time" together while enjoying the charming diversions of the past. It's a chance to just "be together" without the trappings of modern life. And it's a chance to become reacquainted by sharing a lively board game, having a leisurely face to face conversation, watching a beautiful sunset, or brewing coffee together at dawn.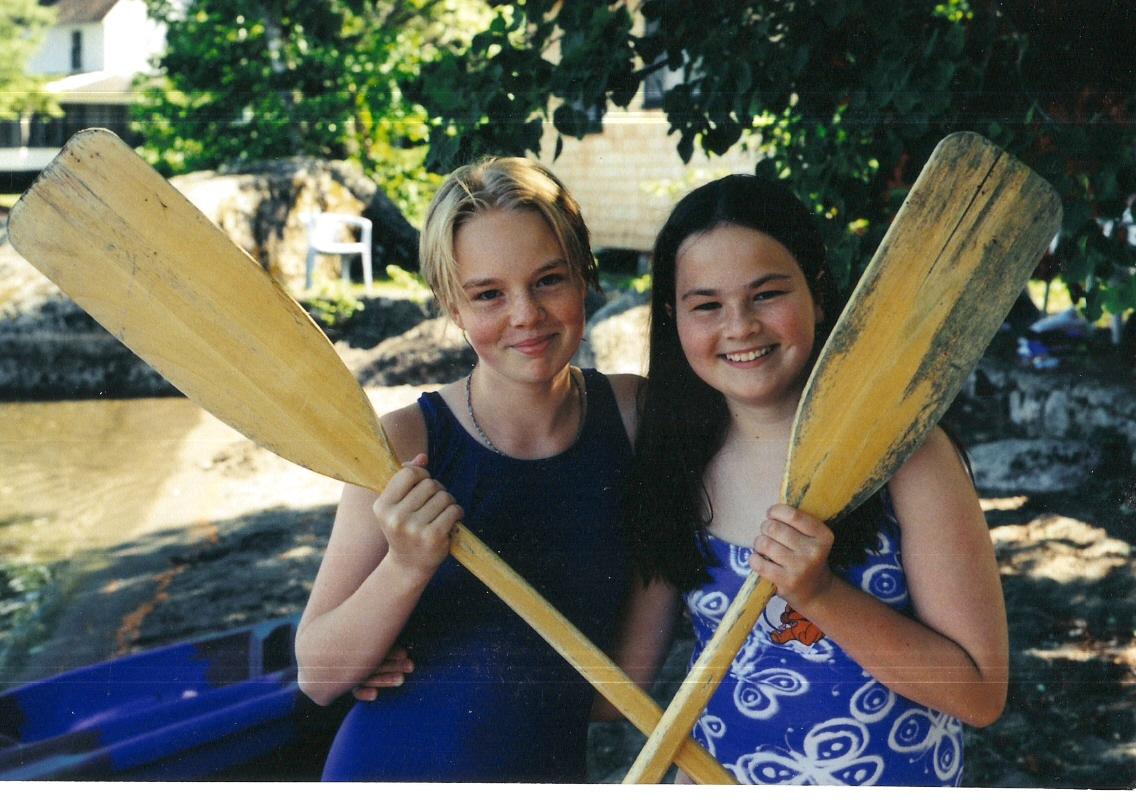 What Kinds of Outdoor Activities Do You Enjoy?
During our long summer days we boast a full range of warm weather activities, or as always, just feel free to sit back and relax in the quiet tranquility of the north woods….

Relaxing guests can enjoy the view from their screened porch, sun themselves on our sandy beach, take a casual swim in the lake, photograph our wildlife, bird watch, play lawn games, read a book from our library, take day trips to nearby local attractions, go shopping or antiquing in nearby towns, enjoy our marvelous fall colors, or watch a movie or sports on our large TV.
More active families and guests can canoe or kayak along the shores of East Grand lake, paddle down nearby pristine and primitive rivers, row out for a picnic on an island, mountain bike along wooded trails and scenic rural roads, take nature hikes into the nearby forests, search for wildlife, sail our expansive 22 mile long 16,000 acre lake, explore our 365 miles of picturesque shoreline by powerboat, take the paddle boat out for a spin, climb some real mountains in nearby Baxter State Park (less than 2 hours away), or as always, Maine Fishing for salmon or an abundance of active warm water fish like bass, perch, and pickerel.
Whether relaxing or playing on your vacations, Rideout's is centrally located which makes us convenient for day trips that the whole family can enjoy. Take a drive to Canada, the Downeast Maine coast, or picturesque Baxter State Park, Moose Alley! Or you can spend your days scavenging for antiques, picking strawberries in bulk, exploring ancient lighthouses, strolling along the picturesque Maine coast at West Quoddy Head National Park, visiting quaint Canadian seaports, exploring Campobello Island - FDR's summer home, or climbing the northern tip of the Appalachians - Mount Katahdin. We can provide you with information and directions to each of these family vacation attractions.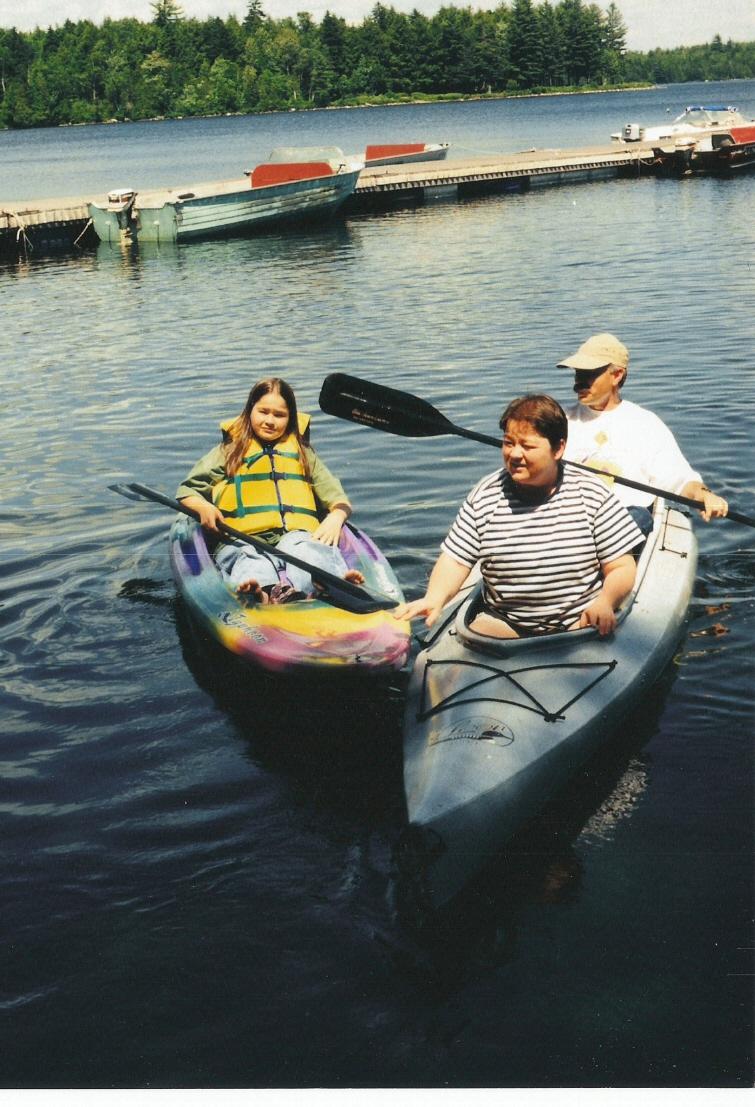 Our cabin rentals are large enough so that we can offer several lodging plan options for your family vacations. We offer our Housekeeping Plan (cook your own food with cabin rental), and our American Plan resort summer plan (full meals and Maine cabin rentals provided with services). We also offer limited summer season overnight rates for guests desiring lodging only.

Here's a list of some activities to enjoy on your Maine Vacation:

Fishing with the kids (dock fish for bass!)
Picnic on an island in the lake (or on your porch!)
Power boating - no engine size limits

Day trips to scenic (and famous) places
Kayaking - lake or river
Canoeing - on the lake or river trips

View the fireworks on the 4th of July!
Sailing the vast stretches of the lake
Play horseshoes or badminton
Go on a nature hike

Explore Canada (only 10 miles away by car)
Take a mountain bike ride
Go bird watching
Search for wildlife
Play board games or cards in the lodge rec. room
Swimming in our clear pure water
Play ping pong in the lodge rec. room
Explore our 16,000 acre lake
Read a book from our lodge library
Water-ski the lake
Take out the paddleboat
Count the stars or catch the northern lights
Fly fishing on remote streams
Watch our lodge satellite TV (DISH Network)
Sunbathing on our beaches & docks
Catch butterflies
Fly fishing for bass
Windsurf across the lake
Golf in Houlton (great 18 hole course)
Backpack in our rugged forests
Photograph our loons
Check out the local yard sales
Attending County Fairs & Festivals
Visit our local wildlife refuge
Hit up the duty free shops in Canada